By Kristen Mitchell
When United States Surgeon General Vivek Murthy was a child, he experienced anxiety about going to school. He worried about who would sit next to him at lunch and play with him at recess, wondering if his trouble connecting with peers meant there was something wrong with him.
"I wasn't the only one feeling that," he said. "But it felt like that at the time."
When Murthy started practicing medicine, he realized the shame that comes with feeling isolated from others was common. Murthy participated in a panel discussion about social connection, compassion and youth mental health held at the George Washington University Milken Institute School of Public Health on Friday. The event was supported by the Stanford Medicine's Center for Compassion and Altruism Research and Education (CCARE) in collaboration with the Art of Living Foundation, Milken Institute SPH and the GW Center of Excellence in Maternal and Child Health.
The GW Center of Excellence in Maternal and Child Health is one of 13 centers across the United States committed to advancing and improving the health of women, children and families.
There is a deep shift that has happened around the world where people feel increasingly disconnected from each other and themselves, Murthy said. To get out of this "social recession," we must figure out how to engineer and build a social revival in the United States and around the world, he said.
"That connection that we share with others is the foundation on which we build everything else—good health, good schools and workplaces, and a society that truly functions well," Murthy said.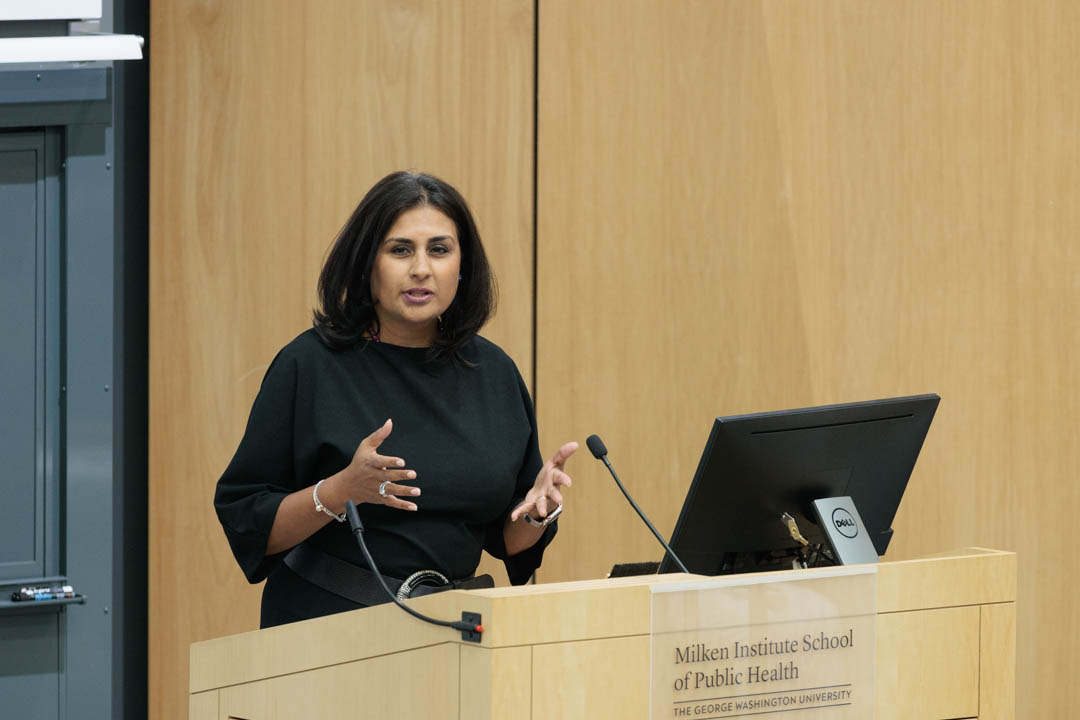 GW's Amita Vyas opened the event, held at Milken Institute SPH. (William Atkins/ GW Today)
---
The connections between community and health were brought to the forefront during the COVID-19 pandemic. To slow the spread of COVID-19, individuals were asked to distance themselves from others and forgo in-person activities they would have previously enjoyed. The long-term consequences of the pandemic have resulted in increased stress, anxiety and mental health struggles, said Amita Vyas, associate professor and director of the maternal and child health program in the Milken Institute SPH's Department of Prevention and Community Health.
"As we emerge from an unprecedented global pandemic, we have no choice but to examine, understand and develop solutions to address the consequences of this pandemic, particularly the disproportionate and inequitable impact the pandemic has had on women, youth and children," she said. 
There is an instinct to throw money at the problem when society faces a significant challenge, Murthy said, but that is not going to solve disconnection. The last two painful years have been an opportunity to reflect on what really matters to us.
"My hope is that we can make this shift from being a largely work-centered society, a society that has largely told younger generations that success is equated with your ability to acquire wealth, power or fame and shift instead to what I think history and evolution have told us is really what gives us happiness and fulfillment, which is a deep sense of connection to ourselves and to others, a life that is truly centered around people and service," Murthy said.
The panel discussion also featured Gurudev Sri Sri Ravi Shankar, founder of the Art of Living, and James R. Doty, founder and director of CCARE. The discussion was moderated by Emma Seppälä, a Yale University lecturer and science director at CCARE.