Daniel E. Martínez, an assistant professor of sociology at the George Washington University Columbian College of Arts and Sciences, has been named director of the new GW Cisneros Hispanic Leadership Institute.
The institute was recently established at GW through a $7 million gift from alumnus Gilbert Cisneros, B.A. '94, and his wife, Jacki. A Mexican American scholar, Dr. Martínez's research and teaching interests include the sociology of race/ethnicity, criminology, immigration and the legal and social criminalization of unauthorized migration in the United States.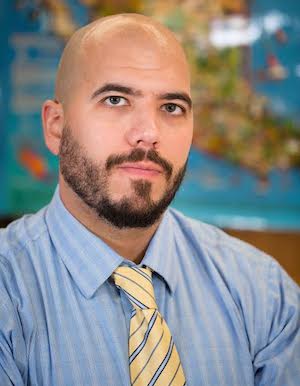 Daniel E. Martínez will serve as 
director of the new GW Cisneros Hispanic Leadership Institute.
---
"Dan's background and scholarship are an ideal match in leading the Cisneros Institute during its inaugural year," said Ben Vinson, dean of the Columbian College of Arts and Sciences. "I look forward to the exciting and important work ahead as we move the institute from concept to reality, and change lives in the process."
The Cisneros Institute seeks to address the issue of under-matching, which occurs when students of high academic potential do not matriculate to selective universities. Because under-matching can lead to a lack of diversity among the nation's leadership, the institute seeks to help deserving students gain the leadership skills and confidence needed to apply to, attend and graduate from a selective university. The institute encompasses a pre-college summer program, a post-doctoral fellowship, public and academic programming and college mentorship and scholarship support.
"I am honored to have been selected to lead the institute during its inaugural year," Dr. Martínez said. "In addition to having tremendously supportive parents, I believe a major reason I have been able to succeed thus far in my career is because of the important mentors and role models I have had throughout my life. This is my opportunity to pay that forward and serve as a mentor to our students."
In a video conversation with Columbian College Dean Ben Vinson, Dr. Martínez discusses the tragic personal stories behind the politics of immigration reform. The video casts a spotlight on the plight of unauthorized migrants, and the staggering impact of border crossings on their own lives and that of their families.
---
Dr. Martínez, who teaches courses on transnational crime, criminology, and the sociological imagination, received a Ph.D. in sociology at the University of Arizona, and holds an M.A. in sociology and M.S. in Mexican American studies, also from the University of Arizona. He is one of three co-principal investigators of the Migrant Border Crossing Study, a Ford Foundation-funded research project that involves interviewing recently deported unauthorized migrants about their experiences crossing the U.S-Mexico border and residing in the United States. His research, which also examines border deaths and immigration-crime fallacy in Washington, D.C., has been published in policy reports and peer-reviewed journal articles, and has been featured in several media outlets. Martinez has also spoken at the U.S. Department of State and at an ad-hoc congressional hearing. 
"My goal during this first academic year is to help students make important connections in the D.C. area, connections they can draw on throughout the rest of their careers," Dr. Martínez said. "I also hope to establish a strong foundation upon which to build the Cisneros Hispanic Leadership Institute."