By Kristen Mitchell
For as long as he can remember, Angelo DeLeo has looked forward to the excitement surrounding an annual festival in his hometown of Jessup, Pa., honoring an Italian saint. The May event highlights a special connection between the residents of Jessup and Gubbio, Italy. The older Mr. DeLeo got, the more he appreciated the deep cultural ties that bound the two cities together.
Jessup was founded more than 150 years ago by immigrants from Gubbio. When these settlers came to the United States, they brought with them a tradition from home—the "Festa dei Ceri," an annual festival honoring the life of Bishop Ubaldo Baldassini, the canonized Protector of Gubbio. Mr. DeLeo marked this celebration every year at home and decided early on in his academic career at George Washington University that he wanted to study the ties that bound the two cities together.
As a sophomore, Mr. DeLeo proposed a comparative study between "la Festa dei Ceri" and Jessup's Saint Ubaldo Day. He applied for GW's Undergraduate Research Award and was awarded $5,000 to travel to Gubbio, where he interviewed locals to learn more about the cultural traditions surrounding the annual May event. The award covered Mr. DeLeo's living expenses and roundtrip flights to and from Italy last summer.
His research included interviews with Italians about the festival music, the celebration's cultural significance and how important it was that their peers participated in the festivities.
As part of both festivals, participants don colorful outfits to run through the streets of their city with small statuettes of saints mounted on tall platforms. Mr. DeLeo found that the run is much more competitive among participants in Jessup, who boast about their victorious finishes and athleticism, compared to their Italian counterparts.
Mr. DeLeo, now a junior majoring in anthropology and international affairs, compared his findings to similar data to analyze how people think of Saint Ubaldo Day in Jessup and how the festival has changed from its Italian roots. He concluded the events are more similar than he first believed.
"I notice that in Jessup many people voice strong opinions for making the festival as close to the tradition of Gubbio as possible and often apologize to spectating Italians for themselves or others who behave 'too American' at certain points in the festival," he said. "Despite this, there were a total of zero people in my almost 50 interviews that said that Jessup should do this. On the contrary, every one of them were in one way or another supportive of Jessup creating their own tradition and way of celebrating the festival."
Mr. DeLeo will present the results of his interviews, a comparison of the two festivals and the implications of his study at Research Days in April. He hopes to build a framework for future cultural comparisons.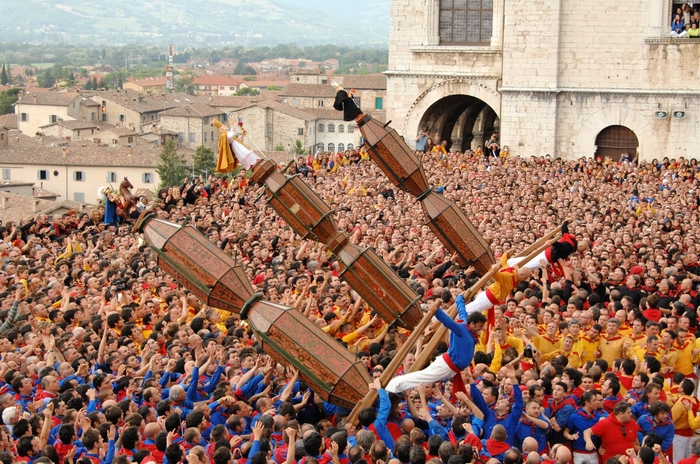 Locals carry a statue of Saint Ubaldo through the streets of Gubbio as part of the "Festa dei Ceri" celebrations. (Photo courtesy of Angelo DeLeo)
---
Mr. DeLeo was inspired to pursue this line of research during his first trip to Gubbio in May 2015. Residents of each town often travel to the other's celebration, he said. Alexander Sebastian Dent, an associate professor at the Columbian College of Arts and Sciences and the Elliott School of International Affairs, encouraged Mr. DeLeo to take on the project and apply for the Undergraduate Research Award.
Mr. DeLeo was "brimming with ideas about language," Dr. Dent said. As Mr. DeLeo delved deeper into anthropological theories, his ideas became more refined. During his time at GW, Mr. DeLeo also founded GW Polyglots, a student organization supporting the learning and spread of foreign languages. He is fluent in Russian, Italian and Spanish and has studied four additional languages.
Students should boldly explore the topics they are interested in and keep a notebook for brainstorming ideas, Dr. Dent said.
"Everything is interesting if you dig into it," he said.
Mr. DeLeo said his personal connection to the festival sustained his interest throughout the project. He encourages other students to seek out opportunities that will carry their interest for years to come.
"This project is something I am personally invested in. Every year I participate, I like it more," he said. "Follow your own personal interests when you are trying to do research because the results will turn out better, if nothing else."
Mr. DeLeo plans to pursue a Ph.D. in linguistics or sociocultural anthropology after graduation to study how individuals learn and spread language. He hopes to go into academia and continue doing fieldwork.
---
To learn more about available research opportunities contact the GW Center for Undergraduate Fellowships and Research.