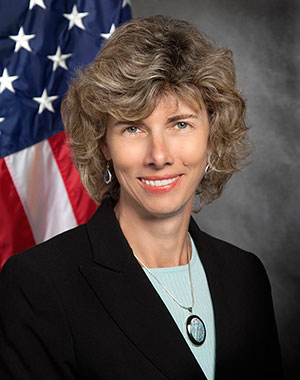 Allison Macfarlane, chairman of the U.S. Nuclear Regulatory Commission, will join the George Washington University Elliott School of International Affairs in January 2015 as director of the Center for International Science and Technology Policy and the M.A. program in international science and technology policy. She will teach a spring 2015 graduate course on "Energy and Society."
"I am delighted to be joining the Elliott School. It provides a wonderful interdisciplinary environment whose faculty I have long admired," Dr. Macfarlane said. "I am looking forward to returning to my academic research and to training a new generation of leaders in science and technology policy."
Dr. Macfarlane, who focuses on nuclear waste issues, became chairman of the commission in July 2012 following her nomination by President Barack Obama and confirmation by the U.S. Senate. In this position, Dr. Macfarlane is responsible for the safety and security of the nation's 100 civilian nuclear reactors, as well as oversight of the safe use of radioactive materials for medical and other civilian purposes. From 2010 to 2012, she served on the White House's Blue Ribbon Commission on America's Nuclear Future, which was tasked with creating a strategy and recommendations for dealing with America's high-level nuclear waste. 
"Dr. Macfarlane is one of the world's leading experts on a wide array of nuclear issues—some of the most pressing challenges facing humanity in the 21st century," said Elliott School Dean Michael E. Brown. "Her scholarly expertise has been further extended by her two and a half years of leadership and high-level policy engagement at the Nuclear Regulatory Commission. She will be a tremendous addition to our faculty, not just in the nuclear area but in science, technology and policy more generally."
The Elliott School has significantly expanded its work on nuclear issues in recent years. Its Nuclear Policy Talks series, launched in 2009, has sponsored more than 100 events focusing on nonproliferation, energy, disarmament and arms control policy, including a presentation by Dr. Macfarlane in April 2012. The Elliott School's Institute for Security and Conflict Studies supports a major research project on nuclear weapons and nonproliferation, and its Sigur Center for Asian Studies sponsors a "Nuclear Debates in Asia" project. In the fall, the Elliott School launched a new field of study on nuclear energy policy in its International Affairs graduate program. 
"Over the past decade, the Elliott School has drawn distinguished scholars and thought leaders to join its faculty, and we are excited to welcome Dr. Macfarlane to the GW community," said Provost Steven Lerman. "Her experience and expertise will further enhance not only the Elliott School, but also the university as a whole."
Dr. Macfarlane received a doctorate in geology from the Massachusetts Institute of Technology (MIT) in 1992. She has held research positions and fellowships at Harvard and Stanford universities as well as MIT, and she has served on the faculties of George Mason University and the Georgia Institute of Technology. 
Dr. Macfarlane will remain chairman of the NRC until Jan. 1.