Present a 100-page dissertation in three minutes?
That was the seemingly impossible challenge for a group of Columbian College of Arts and Sciences doctoral students participating in CCAS' first Three Minute Thesis (3MT) Competition. The contest, which was launched in 2008 by The University of Queensland and now hosted at thousands of academic institutions worldwide, is meant to cultivate a students' capacity to effectively summarize their research in a language that is both engaging and appropriate to a non-specialist audience.
The winner of this year's inaugural competition was Elizabeth Pertner, a Ph.D. candidate in political science. Her presentation on "Watching the Watchdog" focused on how weak democracies around the world often violate free speech by repressing the media and fostering self-censorship. Ms. Pertner received $1,000 in prize money.
"The biggest challenge was trying to hit the right balance between oversimplifying and including all the details that go into, in my case, four years of academic research," she said. "It's important to be able to communicate our work to an audience without falling into disciplinary jargon."
The other 3MT winners were:
Second place and a $750 prize: Matthew Lefler, a Ph.D. candidate in chemistry, whose dissertation focused on "Making Carbon Nanotubes from Thin Air."
Third place and a $500 prize: Chelsea Ullman, a Ph.D. candidate in public policy and public administration, who presented research on "How Can Policy Be Used to Get Justice for Campus Sexual Assault Survivors?"
People's Choice and a $500 prize: Jiaqi J. O'Reilly, a Ph.D. candidate in biomedical sciences, who discussed "The Placenta: The Most Important Organ Everyone Loses.
The 3MT forum illustrates how "we need more scientists out there communicating the importance of what we do in ways that are accessible to everyone," said Ms. O'Reilly, who was recently awarded the National Institutes of Health F31 Grant to continue her research.
Presentations were judged on the clarity and conciseness of delivery. Participants also were assessed on how their ideas were consolidated and organized in a compelling and comprehensive manner, with an emphasis on communicating a broad understanding of the topic across various audiences.
---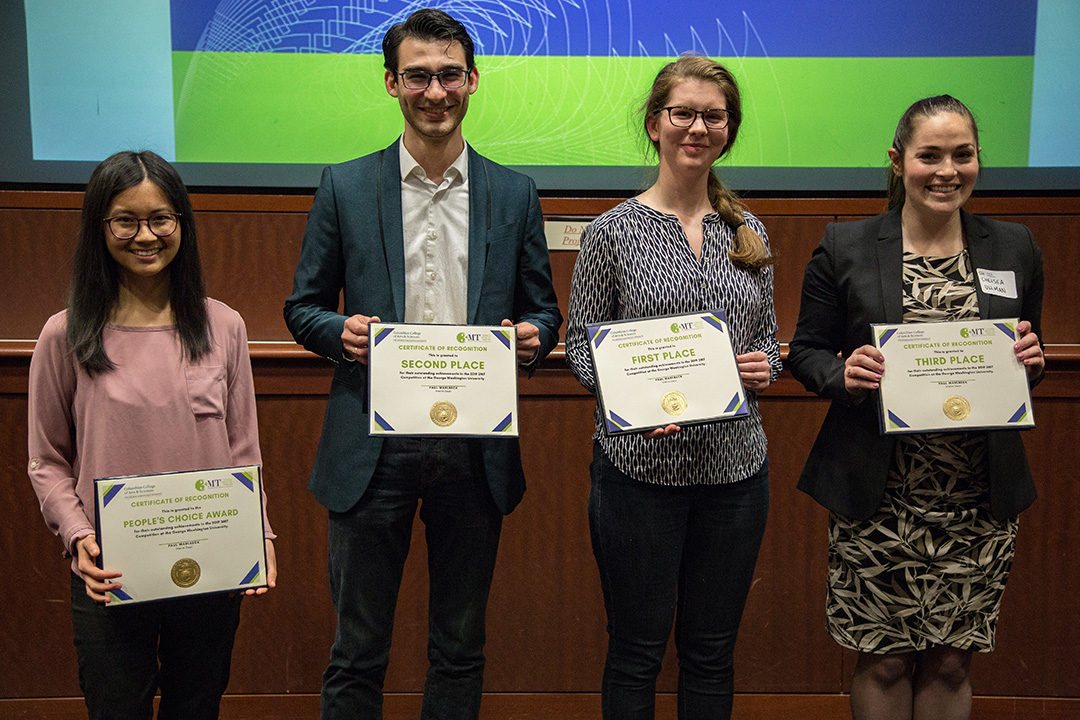 From left: People's Choice winner Jiaqi J. O'Reilly; Second place winner Matthew Lefler; First place winner Elizabeth Pertner; and Third place winner Chelsea Ullman.