Screws, spigots, children's blocks and shower rings are just some of the discarded objects that have been given new life in the latest work by artist Carol Brown Goldberg. 
Ms. Goldberg's sculpture— a seven-foot-tall bronze titled "EdW"— was installed last week at the corner of 23rd and G streets, next to Funger Hall.
"The animation of Goldberg's sculpture with its painted elements really make this corner 'pop,'" said Director and Chief Curator of University Galleries Lenore D. Miller. "We are delighted and proud to have this wonderful addition to GW's outdoor sculptures."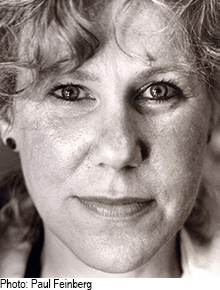 Ms. Miller helped acquire the sculpture for George Washington, as well as two of Ms. Goldberg's paintings, now on loan to their conference room in Duques Hall.
"EdW" took Ms. Goldberg eight months to conceptualize and create. She used computer-generated images of the space and sculpture to envision how it would look and fit, and said the end result is "hugely satisfying."
"I can't believe it's there. It feels like a birth," she said. "I like taking disparate elements and putting them together. I hope it's inspiring to students."
Ms. Goldberg, who exhibited line drawings and bronze sculptures last year in the Luther W. Brady Art Gallery, said she began making small models out of discarded objects and "icons of a different age," which she found mostly in thrift shops, during the Clinton/Obama Democratic primary debates in 2008. 
"I'd paint during the day and then at night during the debates, I pulled a table to me and glued together all these strange objects," she said. "I had these small models made of wood, spigots, nails, old electronics, telephones and cameras all glued together. They all became slightly anthropomorphic."
After observing the work of a local foundry, ART Research Enterprises in Lancaster, Pa., and working with them to create more than 90 small bronzes, Ms. Goldberg decided it was time to go big and bright—in this case, bright red, yellow and blue.
"I decided that it was time to change the scale and that meant working large, and I've loved it," she said. "When I saw the options for the space, I was thinking tall and thin, and I decided late in the process that I was going to paint it. Washington, D.C., is beautiful but there's a grayness to it, so there was an attraction to having color."
"EdW" is named after British ceramicist Edmund de Waal, whose memoir "The Hare with the Amber Eyes" inspired Ms. Goldberg to learn more about the relatively unknown artist.
"I knew nothing about him until I opened the book, and I was so taken by the way he wrote, and so taken by the trip he took us on, through history, personal biography and art," she said. "I was so completely fascinated; it seemed to represent what I look for, which is a seamless kind of life where art, biography and history all come together."
A chance encounter with Mr. de Waal's art dealer during a visit to the Phillips Collection led to even more conversations about the man, which inspired Ms. Goldberg to use Mr. de Waal as inspiration for her next work.
"I felt like de Waal, as an artist of our time, incorporates values that inspire me," she said. "This all happened at the same time we were carving out this sculpture, so I thought I'd call it "EdW." It would remind me how another artist inspired me. I like to title pieces that remind me of moments in life that were redirected to a positive place."
Inspiration for her work can come from anywhere, said Ms. Goldberg, but she believes it's something "we're all looking for."
"We already know life is grubby and sad and can be hurtful, and we are all looking for some kind of way to not be too reactive. That's spoken from someone who's extremely reactive, so I look for ways to observe things and understand them," she said. "Art is just a great area in which to contemplate a lot of things."
Ms. Goldberg, who watched the installation of "EdW," said she loves the idea of having public art around the city.
"The idea of having it outside and in public space, I hope it does inspire in a way," she said. "I guess that's the point of art, to make you look at things differently. Like taking ordinary things and seeing that they can become something else."
"I hope that students won't turn their faucet on now without thinking of other possibilities for it," she added.