A dozen federal government employees and enlisted personnel have been recognized for outstanding public service with an Arthur S. Flemming Award, including a swine flu researcher, clean water enforcer and Navy SEAL diving physiologist.
The awards were presented at a ceremony at the Marvin Center on June 3, hosted by the George Washington University Trachtenberg School of Public Policy and Public Administration, the Arthur S. Flemming Commission and the National Academy of Public Administration.  
Elizabeth Dole, a former Republican U.S. senator from North Carolina who has held two cabinet positions and is former president of the American Red Cross, received the award's Katherine B. Gebbie Lifetime Achievement Award for her career of public service. Ms. Dole, who became the first woman to be honored with a Flemming Award in 1971, also gave the keynote address for the award's 70th program this year. She highlighted the need for public servants who persevere, calling them the lifeblood of democracy. 
"Scholarship, character and leadership are worthless unless they inspire service in others," Ms. Dole said, quoting a speech she made during her junior year of high school about the importance of public servants being leaders. 
Peter Williams, president of the Arthur S. Flemming Awards Commission, noted that nominations for the awards this year coincided with the government shutdown. "Almost as many nominations were received as in past years, reflecting the high regard in which the Flemming Award is held," he said, "and the importance agencies attach to public recognition of their staff members' outstanding achievements." 
The 12 recipients this year were nominated by their federal agencies and then selected from a pool of nominees through a competitive judging process based on their work performance, leadership, contributions to society and potential for continued excellence. "Of significance this year is the fact that there are as many women as men among the honorees, which speaks to the evolution of greater diversity in the federal government's ranks in recent decades," said Mr. Williams.  
Each of the recipients placed in one of five categories: leadership or management; legal achievement; social science, clinical trials and translational research; applied science and engineering; and basic science.
---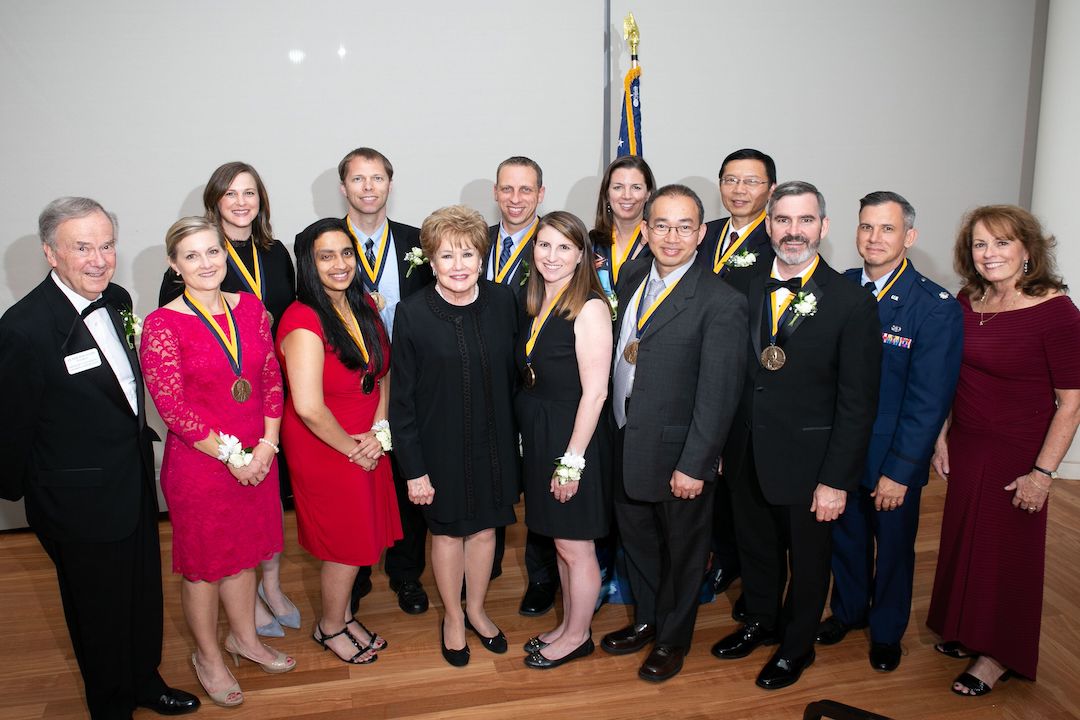 Peter Williams, president of the Arthur S. Flemming Awards Commission (far left); Ms. Dole (fourth from left); and Kathy Newcomer, director of the Trachtenberg School (far right) pose with 70th Arthur S. Flemming Award honorees. 
---
The winners were: 
John Bolten, NASA, applies satellite remote sensing, land surface modeling and data assimilation to water resources management, agricultural forecasting and flood monitoring. 
Feng Gao, U.S. Department of Agriculture, developed multiple high-impact remote sensing algorithms and tools used to study and inform agricultural decisions.
R. Joseph Kline, U.S. Department of Commerce, advanced the semiconductor industry with methods that provide the insight needed to design organic materials that can be used in high performance, low-cost devices.
John Florian, U.S. Navy, advances scientific research on the physical performance of members of the military including diving physiology, oxygen toxicity, thermoregulation and biometric monitoring. 
Khanh Pham, U.S. Air Force Materiel Command, is the principal scientific authority on autonomous space command, control, assured communications and space situational awareness. 
Deepa Avula, U.S. Department of Health and Human Services, revolutionized the use of data for performance management and changed business practices in the Center for Substance Abuse Treatment while leading the effort to consolidate 17 disparate contracts into a single repository for data collection and reporting to monitor $350 million in spending. 
Elizabeth Argeris Lewis, National Science Foundation, implemented significant changes to a long-standing, congressionally-mandated report on management challenges. 
Brittney Soltes, U.S. Army Corps of Engineers, manages a program to inform nonfederal partners of the status and condition of hurricane levees and shore protection projects to ensure those efforts are still eligible for repair if they are damaged by a storm. 
Matthew Talcott, U.S. Air Force, served as a judge advocate in the Air Force for 13 years. He won major appellate victories and developed the training for senior Air Force litigators that focuses on sexual assault litigation.
Laura Thoms, U.S. Department of Justice, engineered one of the most successful environmental enforcement campaigns in the history of the federal Clean Water Act against several Appalachian coal producers, which is expected to reduce water pollution by 150 million pounds.
Rebecca Dodder, U.S. Environmental Protection Agency, pioneered new ways to examine the environmental and health impacts of energy use, including developing a board game, "Generate," which educates thousands of people about the environmental effects of energy production. 
Amy Vincent, U.S. Department of Agriculture, helped identify new types of the influenza A virus and led the establishment of a national swine flu monitoring system in the wake of the 2009 rise of the H1N1 virus. 
Established in 1948, the award seeks to recognize the achievements of outstanding federal employees with three to 15 years of service, encourage the highest standards of performance in the federal service and attract outstanding individuals to a career in federal service. 
It is named after Arthur S. Flemming, who was awarded the Presidential Medal of Freedom by President Bill Clinton in 1994, two years before his death. His career spanned more than six decades and seven administrations including service as the secretary of health, education and welfare under President Dwight D. Eisenhower. 
"It is always inspirational to celebrate the impressive accomplishments of public servants who exemplify the values and work ethic that Arthur Flemming displayed throughout his career," said Kathryn Newcomer, director of the Trachtenberg School.