Apple CEO Tim Cook will deliver the George Washington University's commencement address May 17 and will be awarded an honorary doctorate of public service, the university announced Wednesday night.
Mr. Cook, whose invitation was suggested by GW students during the nominating process, has led Apple since 2011.
"I am delighted that Tim Cook has accepted our invitation to give this year's commencement address on the National Mall," George Washington President Steven Knapp said. "I know our graduating students will be inspired and enlightened by his reflections on the lessons he has garnered from his distinguished career as a highly effective leader at the forefront of technological innovation."
Mr. Cook was the Financial Times' Person of the Year for 2014, and in 2012 was named one of the 100 most influential people in the world by Time magazine. He joined Apple in 1998, and served as chief operating officer prior to being named CEO. Previously, he was an executive at Compaq, now part of Hewlett-Packard Co., Intelligent Electronics and IBM.
Previous GW commencement speakers include award-winning actress and alumna Kerry Washington, B.A. '98; former New York City Mayor Michael Bloomberg; First Lady Michelle Obama; former President George H.W. Bush and former First Lady Barbara Bush; and then First Lady Hillary Rodham Clinton.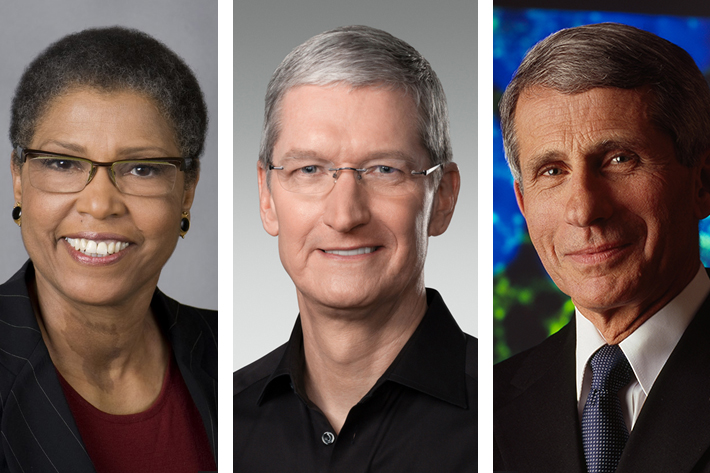 Carole M. Watson, left, Tim Cook, center, and Anthony S. Fauci will receive honorary degrees at GW's May 17 commencement.
---
In addition to Mr. Cook, both Anthony S. Fauci, director of the National Institute of Allergy and Infectious Diseases (NIAID) at the National Institutes of Health, and Carole M. Watson, Ph.D. '78, former acting chair of the National Endowment for the Humanities (NEH), will receive honorary degrees at GW's commencement.
Dr. Fauci is an internationally recognized HIV/AIDS researcher and infectious disease expert. He serves as an advisor to the White House and U.S. Department of Health and Human Services on global AIDS issues and emerging infectious disease threats. Dr. Fauci has been director of NIAID since 1984 and has lectured at the GW School of Medicine and Health Sciences multiple times. He received the Presidential Medal of Freedom from President George W. Bush in 2008.
Dr. Watson, an alumna of GW's Columbian College of Arts and Sciences, held various roles at NEH across several decades. In 2014, Dr. Watson organized "Standing Together," an NEH initiative to help Americans understand the experiences of service members as they return to civilian life.
In addition to the all-university commencement ceremony, individual GW schools and colleges will hold ceremonies May 14-17.