By John DiConsiglio
For years after he and his family came to the United States from Iran, Amin Arvin Attari, B.S. '21, refused to call himself a refugee.
To Attari, the word conjured images of desperate outcasts knocking on America's door. That wasn't him, he told himself. His parents were scientists who escaped political persecution in Iran. Attari excelled in his Maryland high school, graduated summa cum laude from George Washington University with a neuroscience degree and won a prized scholarship award from the National Institutes of Health (NIH), where he currently works as an investigator studying the human brain and cognition.
"Refugee? Not me," said Attari, recalling how he shunned the term. "Refugees were people from somewhere else. I was American to the bone."
Now, Attari has not only accepted the word, he's embraced it as a point of pride. Calling himself a refugee, he explained, is his way of honoring his life's journey—from fleeing his home in Iran as a teenager to an anxious exile in Turkey as he awaited entry into the U.S. to the struggles and triumphs he experienced in his new country before becoming an American citizen earlier this year. Today, he sees his own story reflected in the waves of young refugees driven from their homes by conflicts in countries like Afghanistan and Ukraine.
"I share a lot with these teenagers," he said. "I speak the same language, experienced the same religious and political oppression and was as uncertain and afraid as every one of them. But what I most see in myself and other refugees is hope and determination."
Since the 1979 Islamic revolution, Iran has experienced a steady flow of refugees exiting the country. In 2020, more than 15,000 people fled Iran and applied for asylum in other nations, according to the United Nations High Commissioner for Refugees (UNHCR). Today, about 385,000 Iranian immigrants live in the U.S.
Attari's journey began in Mashhad, the second biggest city in Iran and the site of religious pilgrimages to the Holy Shrine of Imam Reza, the largest mosque in the world. Both of his parents are scientists—his mother a physicist who left her studies to raise her three sons, and his father a physician and public health expert. Following their intellectual example, Attari was a quizzical youth, devouring Sherlock Holmes mysteries and puzzling through math equations at the kitchen table with his mom. "My parents inspired me with their love of math and science. They taught me to think for myself," he said. "Even as a child, I questioned everything."
But that curiosity put him at odds with his hardline teachers, who often expelled him from classes for challenging lessons. At home, his father was under government scrutiny for raising public health concerns and giving interviews to Western media outlets like the BBC and Voice of America. When prosecution seemed imminent, Attari's father left the country for Turkey in 2010, finally making his way to the U.S. in 2013.
At home, Attari's family struggled financially while they awaited news from his father. Attari said he was wracked with anxiety as he approached mandatory military service at 18. Deciding they could wait no longer, Attari followed the same route as his father, leaving for Turkey by himself in 2014.
"I was a super-confident, independent kid," Attari said. "I thought I could survive living in a cave if I had to."
But life as refugee was more harrowing than Attari expected. The nearly 40,000 Iranian refugees living in Turkey face hardships like unemployment and discrimination, few legal protections and the constant fear that they'll be abducted by Iranian intelligence agents, UNHCR reports. Unable to speak the language, Attari found himself isolated and depressed. As months ticked by and he waited for his family to join him, he considered giving up and returning to Iran.
"The worse part was the waiting," he said. "I just sat in my room. I didn't study, I didn't have friends. It was like my life was slipping away."
After months alone, Attari's mother and younger brother were able to travel to Turkey. But their waiting continued for weeks while the U.S. embassy processed their visa applications. In 2015, Attari and his brother landed at John F. Kennedy airport in New York and reunited with his father in Maryland. His mother arrived in the U.S. soon after.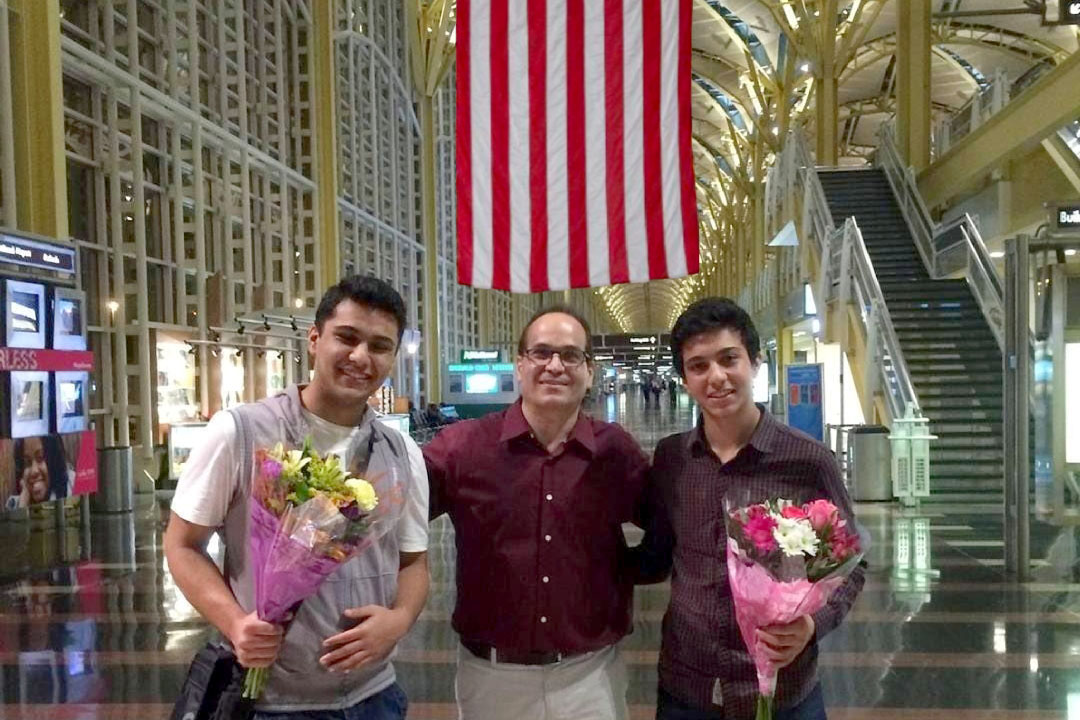 Attari (left) and his brother Kian (right) were reunited with their father, Dr. Mohammad K Attari (center) in 2015 at Ronald Reagan Washington National Airport.
Attari's first days in high school were a blur of new experiences. "I was excited about everything—riding that yellow school bus, being able to take a class in theater, even getting up to go to school on a Monday morning," he laughed. "The other students definitely thought I was weird." His adjustment wasn't always smooth. Attari occasionally heard fellow students make refugee jokes. At GW, he enthusiastically explored political science, philosophy and psychology courses before settling on a neuroscience degree.
"From the very first lecture, [Attari] struck me as incredibly eager to learn," said Professor of Cognitive Neuroscience Sarah Shomstein, who recalled Attari staying after classes to discuss theoretical questions about the human brain. "A mind like [his] deserves to be nurtured."
After graduation, Attari was inundated with fellowship offers from political think tanks and institutions in Washington, D.C. But he chose to follow his passion for science to NIH, where he'll soon begin an agency-sponsored Ph.D. program.
Attari and his family still maintain Iranian traditions like enjoying a walnuts-and-pomegranate stew called fesenjoon and celebrating Nowruz, the Persian New Year, in March. After his naturalization ceremony, Attari said he could finally embrace his varied identities—refugee, new American citizen and scientist. It was a message he hoped would inspire other struggling young refugees. "Despite our past," he said "our futures are bright."