By James Irwin
Her classmates were milling around the National Mall, their black graduation robes glistening slightly from an on-again, off-again drizzle that accompanied the early summer heat. Alexa Dectis, meanwhile, was backstage, getting laptop recommendations from Apple CEO Tim Cook.
"He gave me advice on which one I should buy for law school," Ms. Dectis said of her conversation with Mr. Cook, the George Washington University Commencement speaker. "He suggested the new gold MacBook that had just come out."
An hour earlier, as part of the on-stage Commencement exercises, Ms. Dectis, B.A. '15, had helped present Carole M. Watson, Ph.D. '78, with an honorary degree from the university. Now, she was chatting up Mr. Cook about which new computer she should purchase. For the former child actor-turned aspiring lawyer, it was a fun moment from a special day, one made possible after years of overcoming a genetic disorder that robs her of motor strength.
'I knew I wanted to come here'
The conversation with Mr. Cook was about function. Ms. Dectis lives with Type II spinal muscular atrophy. Her body cannot regrow stem cells after they die, causing her to progressively weaken. Lightweight hardware is important for her, she told Mr. Cook. She also explained that Apple's accessibility features had been helpful during her time at GW. His recommendation of the new MacBook was about weight and utility.
"He told me the new 12-inch MacBook was just over two pounds and contained all the power and storage I needed to succeed as a law student," Ms. Dectis said.
It was information she valued. Ms. Dectis has spent most of her life finding ways to work through and around her spinal muscular atrophy. As a child, she could walk. Today, she can't stand.
The disorder makes just about everything difficult. But Ms. Dectis sees it as a hurdle, not a deterrent. At age five, shortly after she began to lose strength in her legs, she began a decade-plus long career as a child actor, starring on Sesame Street and appearing on Nick Jr. It sparked an interest in the entertainment industry that continues this day.
She grew up in Allentown, Pa., and applied to 18 colleges. Ms. Dectis enrolled at GW because of the university's disability support services.
"I realized how wheelchair-accessible it was and how the [Office of] Disability Support Services could accommodate me and help me succeed," she said.
"The moment I got to GW, I knew I wanted to come here."
Supporting students with disabilities
Mounted on the inside wall of the Office of Disability Support Services' street-level office in Rome Hall is an encased Rawlings Adirondack Pro baseball bat. A metallic plaque wrapped around the top of the barrel bears a simple message: "NEVER Stop Going To Bat For Your Students."
Susan McMenamin has been promoting that culture of advocacy and empowerment for students with disabilities at GW for 11 years, first as the associate director of DSS and now as its director, following the 2014 retirement of longtime director Christy Willis. In addition to providing equal access to people with disabilities, she said, DSS has a complementary mission to establish a climate of inclusiveness. DSS-registered students at GW have increased from around 500 in 2004 to more than 900 in 2014.
Ms. McMenamin met Ms. Dectis the spring prior to her freshman year.
"Her family was extraordinarily proactive in recognizing the full spectrum of accommodations and services she would require," Ms. McMenamin said. "Those were important steps in ensuring she would have an equal opportunity to be successful here."
The accommodations began, as they often do, with housing and broadened to include personal care and technology-based support. Incorporating voice-command assistance to help with writing assignments and exams were added as Ms. Dectis' motor issues became more problematic, Ms. McMenamin said.
"Changes in her functioning meant we were always redesigning the plan," she said. "The key to Alexa was there was nothing about her individual circumstances that she ever outwardly suggested was a roadblock—I say outwardly because I know she has struggled. But she was always able to maintain that positive outlook, which I found highly commendable."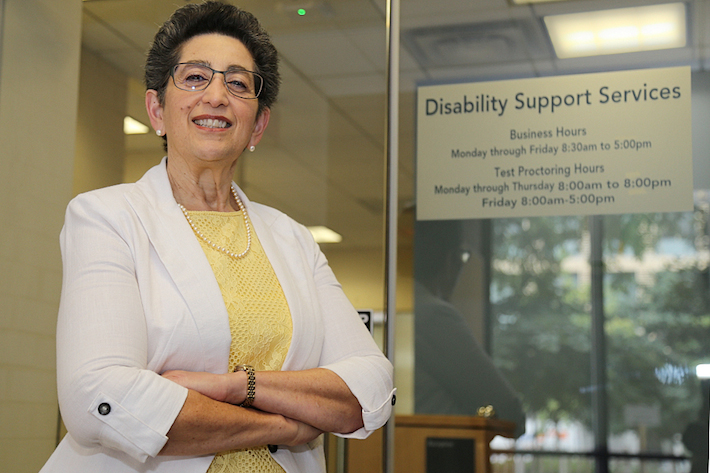 The Office of Disability Support Services, under the leadership of its director, Susan McMenamin, currently serves more than 900 students with disabilities. Among the support it provides are scholarships, including the Mei Yuen Hoover Scholarship. Ms. Dectis is one of 71 students to benefit from Hoover scholarships since it was created in 1999. (Rob Stewart/GW Today)
---
An advocate for inclusiveness
DSS also encouraged Ms. Dectis to apply for the Mei Yuen Hoover Scholarship, established in 1999 by its namesake, a 1945 alumna, to provide support for students with disabilities who wish to study at the Columbian College of Arts and Sciences. Seventy-one students have benefitted from Hoover scholarships since it was created.
It made everything a little easier, Ms. Dectis said.
"I have so many other things that I have to worry about in my life," she said. "The scholarship made it possible for me to attend GW—it allowed me to pay for some of the accommodations I need. Because my tuition is lower, I can afford to live independently in a city, despite having a physical disability. From there I could do really incredible internships and take classes with renowned professors."
Ms. Dectis thrived as a communications major. Classes with adjunct professors Cheryl Wood and Betty Van Iersel, she said, provided her with practical skills. A course on persuasion taught by Clay Warren, the Chauncey M. Depew Professor of Communication, challenged her to think critically. Internships with Discovery Communications, SiriusXM Radio and Clear Channel—secured through the Center for Career Services and Career and Internship Fair—opened her to opportunities in the media and entertainment industries. She even secured a small role in the 2013 movie, "Admission," starring Tina Fey, Paul Rudd and Nat Wolff.
Through DSS, Ms. Dectis also became a campus public figure for students with disabilities. She served on the office's speakers bureau, a group of DSS students who meet with administrative, advising and student groups—including the Board of Trustees and career services staff—to share their stories and promote education of working with disabilities. She was a finalist for the role of student speaker at Commencement.
"Alexa came to be known as a student who had a real willingness to serve as a spokesperson for how we can create the kind of climate at this university that is fully inclusive and respectful of people with disabilities," Ms. McMenamin said. "She was the kind of student here who, I think, became a role model, and she was somebody who many of us on staff really looked up to, for her determination, positive outlook and her drive and commitment."
Going west
On May 17, Ms. Dectis took her prestigious spot on stage at Commencement, reserved for students who introduce honorary degree recipients. Three months later, she completed her internship in the talent management department at Discovery and then flew to Los Angeles. On Monday, she began her first day of classes at Chapman University's Fowler School of Law, which she hopes is the first step to securing a career on the West Coast as an entertainment lawyer.
It's been a busy summer.
"Like a hurricane," she said.
During her final few weeks in Washington, she spent time reflecting on her GW experience. She also finally purchased that new 12-inch MacBook. Mr. Cook's assessment, she said, was accurate.
"I can maneuver it with ease, and utilize several other additional accessibility features integrated in the system, including the sensitivity settings for the trackpad and the 'speech' feature," she said. "Thanks to another 'Only at GW' moment, I had an encounter with Tim Cook and received personal advice that will contribute to my success."
---
Providing more students with access to college—and to enhanced academics and career opportunities once they get there—is a central tenet of Making History: The Campaign for GW, a $1 billion philanthropic effort that will bring the university into its third century. Today, nearly two-thirds of all undergraduate students receive need- or merit-based financial assistance.