The 2013 documentary film "Girl Rising" should inspire viewers to ask, "What's Next?" actress Freida Pinto told an audience Friday at the George Washington University's Milken Institute School of Public Health.
"We don't tell these stories to make you feel further despondent or discouraged. We want to tell them with an element of inspiration. We want to be able to uplift these girls and not view them as victims," she said in the full auditorium.
Ms. Pinto—best known for her role in "Slumdog Millionaire"—joined "Girl Rising" producer Martha Adams for a screening and discussion of the film, in celebration of the International Day of the Girl on Oct. 11. The Milken Institute SPH, the Global Women's Institute (GWI) and Girl Up co-hosted the event.
An estimated 62 million girls across the globe fail to reach their full potential because they are denied the right to an education, Ms. Pinto said. "Girl Rising" and its accompanying campaign aim to address that problem by building awareness through storytelling.
The film tells the stories of girls from nine developing countries who have overcome enormous obstacles to pursue their dreams. The stories are a mix of documentary filmmaking and re-creations that involve actors and the girls themselves. Ms. Pinto is one of nine actresses who narrate the girls' tales.
The audience at Friday's event watched two chapters of the film. The first, narrated by GW alumna Kerry Washington, B.A. '98, featured a girl from Nepal named Suma who writes songs to escape her grueling life as a bonded laborer. The second, narrated by Anne Hathaway, depicted the life of Amina, a child bride whose parents sell her into marriage for $5,000 when she is 11 years old. When she gives birth to a son soon after, Amina is still determined to finish her education.
Following the film screening, Milken Institute SPH Dean Lynn R. Goldman sat down for a conversation with Ms. Pinto and Ms. Adams, the producer, about their mission to give more girls access to education and to better their status in oppressive societies.
As a Girl Rising ambassador, Ms. Pinto is now working with the Girl Rising: ENGAGE INDIA campaign, which brings the film to over 14,000 children from communities in Bihar and Rajasthan.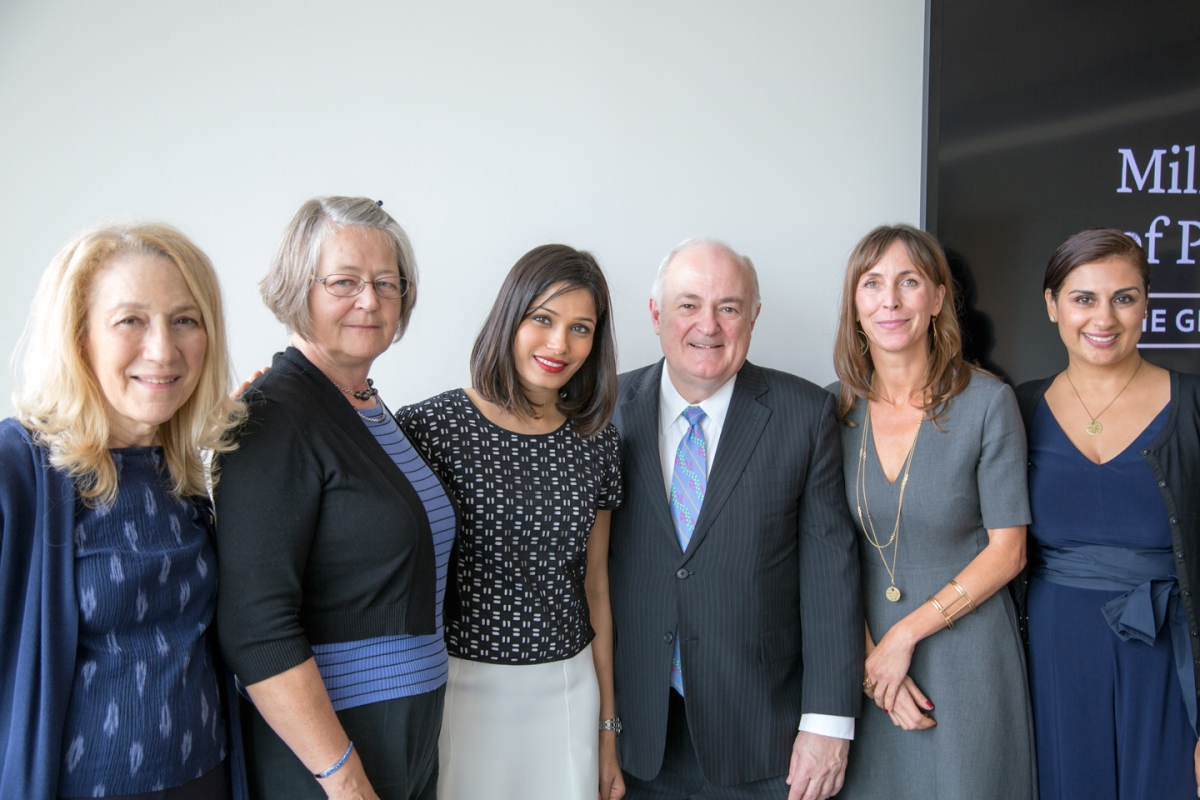 (From left) Lynn R. Goldman, Diane Robinson Knapp, Freida Pinto, Steven Knapp, Martha Adams and Amita Vyas. (Photo: Matthew Golden) 
---
At the GW event, Ms. Pinto welcomed attendees with a story about her trip to a school in Ethiopia two years ago. During the visit, she fielded questions from parents and students with the help of a translator. Then, to her surprise, a young girl stood up and addressed the actor in English.
"Ms. Pinto, I thank you very much for coming to our school, for listening to our stories, for trying to find out how you can help. But with all due respect, I really wish you'd come on a Saturday or a Sunday, because I had to miss my chemistry class for you," the girl told her.
"I was told off right to my face. I stood up, and I started clapping. And I said, 'You go girl.' Because that is really what we want to hear," Ms. Pinto said with a big smile.
Friday's question and answer session provided audience members a chance to share their thoughts with the actor and the producer.
When asked by GWI Director Mary Ellsberg what story Ms. Adams would tell if she were to feature an American "girl rising," the producer said it would be someone from a Native American tribe.
Amita Vyas—an associate professor of prevention and community health who served as a producer of the Hindi version of "Girl Rising"—said that the film led to an "inspirational conversation" with her then nine-year-old daughter, who asked her mother what she "could do" to help the girls she had watched in the movie.
"What I love about the film is that it inspires action. It's the spark," Dr. Vyas said. "But what that action is, is up to you."
At the end of the event, Ms. Pinto charged the audience members to take action by participating in First Lady Michelle Obama's #62MillionGirls campaign. The social media project, which is part of the Let Girls Learn initiative, asks supporters to post selfies on Twitter and Instagram with a message about what they learned in school, along with the statement, "#62MillionGirls don't have that chance."
"This is only going to create the initial spark. We know that the actual change at the grassroots level is not going to happen just by us taking a selfie," Ms. Pinto said. "But let's make this commitment and find ways in which we can help."